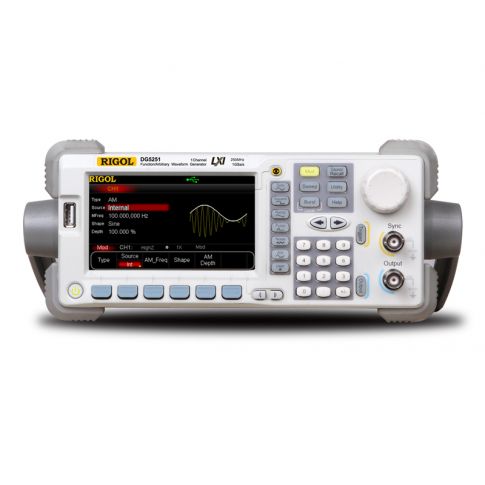 Rigol Waveform Generator DG5251
250MHz, 1CH, 1GSa/s, 14bits, 128Mpts Arbitrary Memory Depth
Delivery Charges quoted separate
Login / Register for price.
250 MHz maximum sine output frequency, 1 GSa/s sample rate, 14 bits resolution.
Single-channel model. The dual-channel model supports frequency and phase coupling.
The 16+2 channels digital output module (optional) together with the analog channel can rebuild the more mixed signals in daily practice.
Support an external power amplifier (optional) that can be configured online.
Support frequency hopping output (optional) with hopping interval up to 80ns and arbitrary editing of frequency hopping patterns.
14 standard waveform functions: Sine, Square, Ramp, Pulse, Noise, Sinc, Exponential Rise, Exponential Fall, ECG, Gauss, Haversine, Lorentz, Dual Tones and DC.
Rise/Fall Time of the Pulse could be adjusted separately.
Enable to edit arbitrary waveform up to 512 kpts and output arbitrary waveforms up to 128 Mpts.
Support AM, FM, PM, ASK, FSK, PSK and PWM modulations.
Support user-defined IQ vector signal modulation and IQ baseband/IF source output.
Support Frequency Sweep and Burst output.
Abundant I/O: waveform output, synchronous signal output, modulation input,10 MHz clock input/output, trigger input/output.
Enable to store and recall waveform data and instrument state, and support versatile file types. Standard configuration with 1 GBytes flash memory.
Plenty of standard interfaces: double USB Hosts, USB Device, LAN, and GPIB (IEEE-488.2).
Seamlessly interconnected with RIGOL USB-TMC digital oscilloscopes for loading and reappearing waveforms.
Support USB flash device storage for FAT files.
Support PictBridge printer.
Provide security lock hole.
Support remote control through 10/100M Ethernet web.
Conform to LXI-C instrument standards (Version 1.2).
Provide Chinese and English built-in help and input methods.
Provide powerful waveform editing PC software.
4.3 inches, 16M true color TFT LCD.