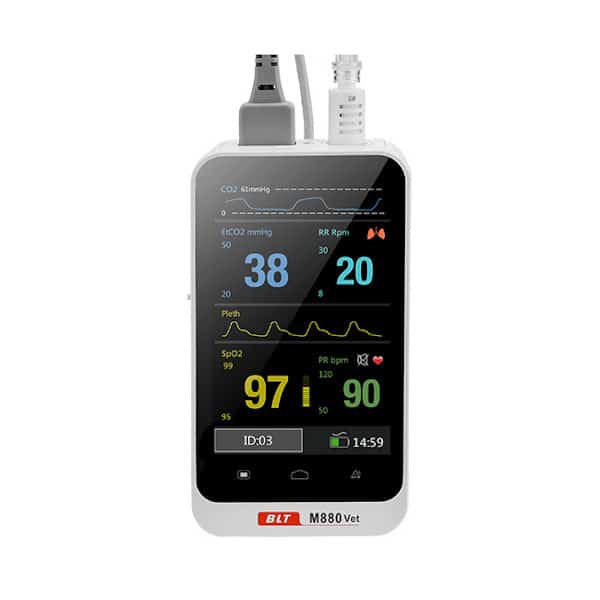 Biolight – M880VET – Handheld Capnograph
Biolight M880VET Handheld Capnograph includes the following features:
Extremely light, for carrying and handling  Only 0.5KG with full configuration, including battery.
4.3 TFT high resolution with touch screen & auto-rotation for user ease of use with any orientation.
Protection against ingress of liquid (IPX2 Waterproof)
Specially designed water filter, ensuring humid environments don't effect readings
Configurable for flux for horse, dog and cat
Large capacity lithium battery for up to 18 hours use
CO2 start/off button to save power
Selectable layout modes including font and waveforms
Visual and audio alarm for exceeding limits and Apnea; pitch tone
Configurations: EtCO2, Respiration Rate, SPO2 and Pulse Rate.
1 year warranty
Inclusive of shipping
Delivery within 2 – 3 weeks 
Login / Register for price.
Biolight M880VET Handheld Capnograph includes the following features:
Extremely light, for carrying and handling  Only 0.5KG with full configuration, including battery.
4.3 TFT high resolution with touch screen & auto-rotation for user ease of use with any orientation.
Protection against ingress of liquid (IPX2 Waterproof)
Specially designed water filter, ensuring humid environments don't effect readings
Configurable for flux for horse, dog and cat
Large capacity lithium battery for up to 18 hours use
CO2 start/off button to save power
Selectable layout modes including font and waveforms
Visual and audio alarm for exceeding limits and Apnea; pitch tone
Configurations: EtCO2, Respiration Rate, SPO2 and Pulse Rate.
1 year warranty
Inclusive of shipping