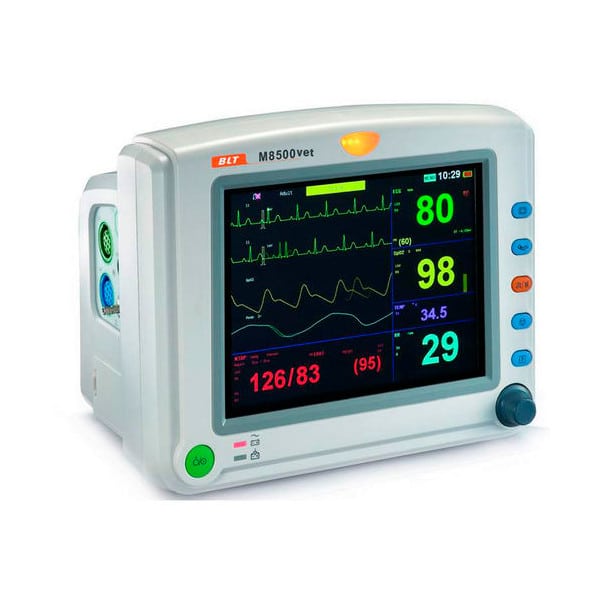 Biolight – M8500 VET – Multi-Parameter Veterinary Monitor
Biolight M8500 VET Multi-Parameter Veterinary Monitor includes the following features:
8″ TFT LCD high-resolution display with up to 9 waveforms. Lightweight and compact portable design.
Nellcor/Masimo SPO2 technology ensure perfect motion resistance and low perfusion resistance performance.
Suntech Vet NIBP technology provide faster, safer and more accurate measurement.
Two CO2 parameter options: Philips CAPNOSTAT Mainstream CO2/ Philips LoFlo CO2
Nurse call enable patients to attract a nurses attention whenever needed.
Large capability battery with over 5 hours continuous usage.
Powerful data storage capability for trend data, alarms, NIBP measurements.
ECG,HR,RESP,NIBP,SPO2,TEMP, PR
Dimensions: 210mm x 258mm x 180mm
Weight: <3.5kg
1 year warranty
Inclusive of shipping
Delivery within 2 – 3 weeks
Login / Register for price.
Biolight M8500 VET Multi-Parameter Veterinary Monitor includes the following features:
8″ TFT LCD high-resolution display with up to 9 waveforms. Lightweight and compact portable design.
Nellcor/Masimo SPO2 technology ensure perfect motion resistance and low perfusion resistance performance.
Suntech Vet NIBP technology provide faster, safer and more accurate measurement.
Two CO2 parameter options: Philips CAPNOSTAT Mainstream CO2/ Philips LoFlo CO2
Nurse call enable patients to attract a nurses attention whenever needed.
Large capability battery with over 5 hours continuous usage.
Powerful data storage capability for trend data, alarms, NIBP measurements.
ECG,HR,RESP,NIBP,SPO2,TEMP, PR
Dimensions: 210mm x 258mm x 180mm
Weight: <3.5kg
1 year warranty
Inclusive of shipping