Automated External Defibrillators: Do You Need An AED?
If you've ever watched a TV medical drama, chances are you've seen someone shocked back to life by a doctor who yells, "Clear" before delivering a jolt of electricity to the person's chest to get the heart beating again.
The machine being used is called a defibrillator, and its use isn't limited to a hospital setting. Devices called automated external defibrillators (AEDs) can be used at home and in schools and are also found in a number of public places. These lightweight, portable devices are available without a prescription.
If you have severe heart disease, you're at risk of sudden cardiac arrest and might want to consider having an AED. But AEDs can resuscitate you only if you have a specific type of heart rhythm problem. Talk to your doctor about whether owning an AEDs could help save your life.
When is an AED needed?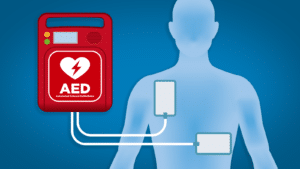 AEDs are used to revive someone from sudden cardiac arrest. This usually occurs when a disruption in the heart's electrical activity causes a dangerously fast heartbeat (ventricular tachycardia) or a fast and irregular heartbeat (ventricular fibrillation). If you're having one of these irregular heart rhythms, your heart doesn't pump effectively and may even stop.
When this happens, your brain and other vital organs don't get the blood and oxygen they need, and you can even die if you don't get treatment within minutes. The sooner your heart's normal rhythm is restored, the greater the chance that you won't have permanent damage to your brain and other organs.
If you're having ventricular fibrillation or ventricular tachycardia and an AED is nearby, a bystander in a public place or a family member can use it to jolt your heart back to a normal rhythm and possibly save your life.
Cardiopulmonary resuscitation (CPR) after cardiac arrest can keep blood flowing to your heart and brain for a time. But often only defibrillation can restore the heart's normal rhythm. Together these treatments can improve your chances of survival.
How to use an AED
If you see that someone has fainted and suspect that he or she may need an AED:
Check to see if the person is breathing and has a pulse.
If you cannot feel a pulse and the person is not breathing, call for emergency help. If there are other people present, one person should call 911 while the other prepares the AED. If you're alone, call 911 or emergency services first to make sure help is on the way.
Turn on the AED. The automated external defibrillator will give you step-by-step voice instructions explaining how to check for breathing and a pulse and how to position electrode pads on the person's chest.
Deliver the shock. When the pads are in place, the AED automatically measures the person's heart rhythm and determines if a shock is needed. If it is, the machine tells the user to stand back and push a button to deliver the shock. The AED is programmed not to deliver a shock if a shock isn't needed.
Administer CPR. Start CPR after the shock is delivered if CPR is still needed. The AED will also guide users through CPR. The process can be repeated as needed until emergency crews take over.
The home AED comes with an instructional training video that shows how to use and maintain the device. If you buy an AED, everyone in your home should watch the video and review it periodically.
Having an AED nearby when you need it
Police and ambulance crews carry AEDs, and they're commonly available in many public places, including malls, office buildings, sports arenas, gyms and airplanes. However, many cardiac arrests occur at home, so having a home AED can save precious minutes in reviving a person with ventricular fibrillation and ventricular tachycardia.
Proponents of home AEDs say putting them where they're needed most will save many lives. But critics argue there's no reliable evidence that home defibrillators save more lives.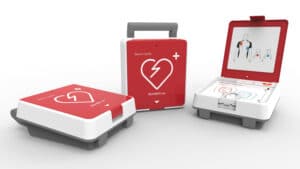 Bioscint Engineering has a wide range of AEDS from the brand Bexen Cardio. Kindly get in touch with us directly for pricing or more information.